Cartoon Doll Emporium, commonly know as CDE among their users, is a dress up site mainly for girls in the 7-13 age span. Its slogan is: "A safe Heaven for the Imagination."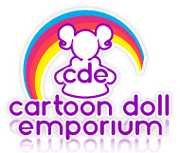 This website permits the creation of an account, which will allow the user to do the following:
Create their avatar
Have a comment sections where they interact with other users
Add users to a friend list
Create blogs in 2 different categories: Marketplace or Normal Blogs
Buy, Trade and Sell virtual items meant for avatar or other activites
The activities referred above are the most used and common with the users, although there exist other activites as well.
Latest activity:
Edit